Eden, an AirBnB nestled in Igatpuri, Maharashtra, embarks on a journey of architectural self-expression. The project is driven by the intent to harmonize with nature through the use of natural materials, employing local construction methods, and seamlessly integrating architecture, interior, and landscape. The endeavor also emphasizes swift construction.

In the process, digital workflows and BIM exploration are harnessed to advance generative design, all while maintaining a delicate balance between traditional local practices and cutting-edge digital design techniques.


Eden Architectural Design weaves together the best of both worlds to create a unique architectural experience.





WIP
Thailand Weed Mart introduces a B2B E-commerce wholesale platform specializing in Cannabis Paraphernalia. In this unique venture, where the identity is subject to adaptation by various businesses, our mission is to establish a brand identity that exudes both subtlety and memorability.

Beginning with the foundation of typography, our aim is to convey maturity and trustworthiness.

The choice of typefaces will reflect a timeless quality, creating an impression of a brand that has stood the test of time. We explore ornamental and detailed forms to infuse a sense of heritage and authenticity.




ON-GOING DOCUMENTATION
L00P 09.21
Product, Identity & Communication
L00P, a limited-edition collectible watch by URBNMNKY-SYSTMS, a division of Urban Monkey, that focuses on experimental, hyper-functional life style accessories.
The Product explores HYPER-REALISM through its form and communication, blurring the lines between reality and simulation. It's not just about telling time; it's about offering an immersive journey that transcends the confines of traditional timepieces. It does this by focusing more on the emotional and philosophical aspects of time.
L00P achieved remarkable success, selling out on the day of its launch in under 3 hours
LINK TO PROJECT CASE STUDY︎︎︎
Playboy 06.22
Product, Identity & Communication
Playboy is a platform for leading writers, artists & photographers to express themselves with total freedom, the place where sex was never taboo & where life, liberty & the pursuit of pleasure were to be enjoyed by all.At Urban Monkey our vision is to build a self sustaining underground community in India by empowering various artists and athletes.Taking cues from the Playboy Magazine, we use this collection as an opportunity to express the power of literature in form of values that UM & PB both share.
The literature here, exists in form tiny morsels of meta messages, expressed throughout the collection. Giving purpose to each object that is a part of this collaboration.
LINK TO PROJECT CASE STUDY︎︎︎
The Nudron Shelf is made out of one single 8' x 4' plywood sheet making the design
environmental friendly, sustainable and cost effective
in comparison to other alternatives.
The design is comprised of 2 main systems; the structural system and the horizontal shelving system. The rigidity and transparency established by the structural system, allows the user to modify the shelving system as required. These 2 systems are split into 6 parts which can be easily assembled
without any glue or tools
.
he design is currently available at an
Open Source Design Library
by
ARC.HV
.
LINK TO PRODUCT︎︎︎
Constructed completely of waste upholstery and upcycled foam, this cozy sac is the most comfortable furniture piece to lounge on. Ergonomically it takes the form of your body, to provide a feeling of sitting on a blob.
Fabric consists of several patchwork pieces, from old upholstery catalogs, Sourced and stitched by URBAN DARZI.
This allowed us to keep every seam unique and no two covers are exactly the same.
Product by vari0.us featuring upcycled fabric by URBAN DARZI for Urban Monkey
LINK TO COMPLETE PROJECT︎︎︎
Lat2Dev 12.21
Typography, Machine Learning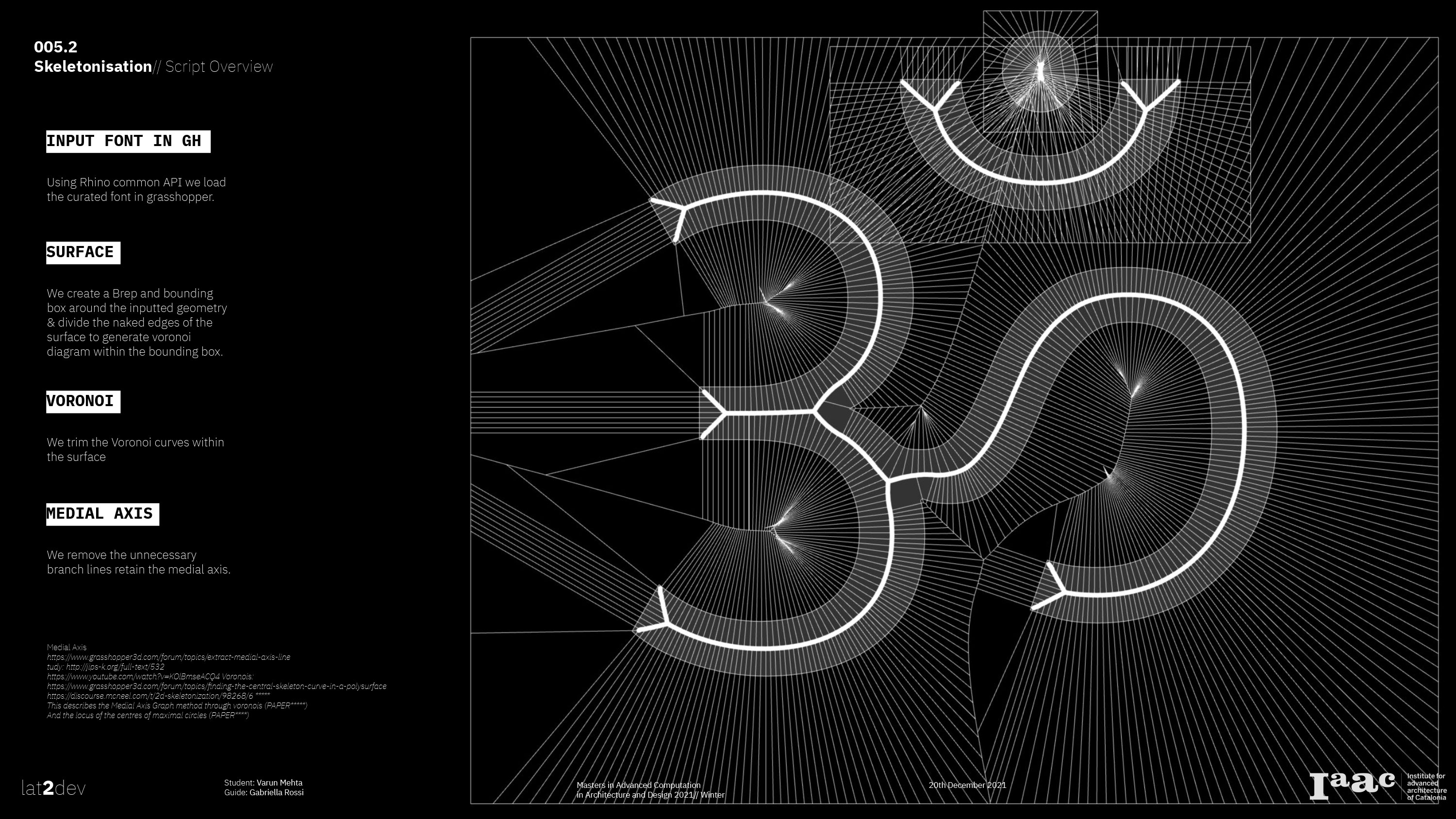 lat2dev is an experimental research,
testing how Artificial Intelligence can aid the creation of Multi script fonts.
The research uses parametric workflows for data generation and pix2pix GANs for training and testing.
lat2dev is a project of IAAC, Institute for Advanced Architecture of Catalonia developed in the Master in Advanced Computation for Architecture & Design in 2021/22 by Varun Mehta
LINK TO RESEARCH︎︎︎
Pump Track 09.20
Architecture, Public Space
As a part of the Kalpataru Sunrise Property in Thane, Bombay SB is building a street league skatepark. We were commissioned to execute the design as per the site context, and provide technical drawings for BMC approval and construction on site.
This was possible in constant collaboration with Altamash and Rizwan bhai, who has sculpted and casted all the organic forms.
LINK TO PROJECT ︎︎︎
dev-SYS 07.19
Architecture, Public Space
dev.SYS
began as an ambition to make a simple geometric type set of Latin and Devanagari scripts sharing the same construction attributes. This was acquired by defining a
display typeface which expresses the complex Devanagri script in a minimal system and is concurrently followed by the glyph attributes of its Latin counterpart.
The study then attempted to map out the correlations between the form anatomy of both the
scripts.
To create a digital system that assists the conversion of existing Latin Display
Typefaces into Devanagari format.
LINK TO REASEARCH︎︎︎
Skatepark Pump Track 09.20
Architecture, Public Space
The brainchild of Architecture Brio as a part of Bandra collective's revamp of the Carter Road promenade, a quarter pipe with an amphitheater was proposed. This idea was expanded into a full-fledged skatepark, with the constant support of Anton and Kamakshi (employees of Architecture Brio then). Very proud of the Bombay SB team for actually bringing this public project to life, despite all the hurdles they have had over the years.
We were privileged to assist Bombay SB in the conceptualization and pitch for the expansion of the skatepark, with Altamash and Anton. Along with designing some metal fabrication with Zia Bhai.
LINK TO PROJECT︎︎︎